Moringa

is frequently referred to as "the miracle tree" because all of its parts – from the leaves to flowers, seeds, bark and roots – have nutritional and medicinal uses. Seed pods are oil-rich, yielding 38% to 40% of buttery yellow oil. The oil is highly sought after by cosmetic and pharmaceutical companies, and can be used in cooking, for engine lubrication, and more importantly, as biodiesel.
Even when grown for  biodiesel, Moringa adds for food security. It's one of the top three most nutritious vegetables in the world and was identified by the World Health Organization as a famine- busting plant.
Moringa oleifera
leaves contain  more Vitamin C than oranges, more potassium than bananas and more protein than eggs and milk. The plant has primarily been used for its medicinal and nutritional benefits. For example, in Africa, Moringa has been used by breastfeeding mothers as a supplement due to its ability to increase lactation and to assist them in managing childhood malnutrition, thus decreasing the mortality rate amongst young children (Saambou 2001).
Moringa oleifera
is a deciduous tree which within the first year of planting can grow up to 3 meters in height and can subsequently grow as tall as 15 meters. During the first 6-12 months, the Moringa tree can produce fruit, however, on average, it takes a period of 2 years to produce seeds. The favorable conditions under which to grow Moringa oleifera are temperatures between 25 – 30 degrees C, although the plant is capable of withstanding temperatures of up to 48 degrees C.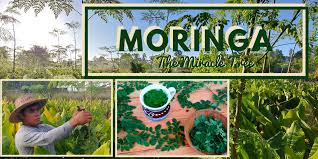 The Moringa pods are a good source of calcium and phosphorus. The oil extracted from Moringa oleifera seeds contains a approximately 13% saturated fatty acids and 82% unsaturated fatty acids. It is also has a particularly high level of oleic acid (70%) in comparison to other vegetable oils, which usually contain approximately 40% oleic acid.
The roots of the Moringa oleifera are characterized to have medicinal properties. However, consumption in high dosages can be fatal due to the presence of spirochinalkaloid, a fatal nerve paralyzing agent (Nellis 1997).
Several studies have been conducted in exploring the use of Moringa for various industries. The most well-studied and exploited uses of Moringa oleifera are medicinal and nutritional in nature. However, in recent years other uses of Moringa oleifera have been studied and their application explored in other industries such as water treatment and animal feed.
The Moringa oleifera leaves are harvested once a week. During harvesting, care is taken to minimize contamination and remove any residue that may have accumulated on the leaves by washing them three times with clean water. The leaves are then dried and farms employ different drying methods. When the drying process is complete, the Moringa oleifera leaves are milled and then packaged as various products such as capsules, tea and powder.
WANT TO KNOW MORE OR NEED HELP WITH A PROFESSIONAL BUSINESS PLAN TO START YOUR FARMING OPERATION CONTACT US NOW – (27) 84 583 3143 or money@global.co.za