"Organic Farming"
is a method of crop and livestock production that involves much more than choosing not to use pesticides, fertilizers, antibiotics, and growth hormones. The principal goal of organic production is to develop enterprises that are sustainable and harmonious with the environment.
The main reasons farmers want to farm organically are their concerns for the environment and about working with agriculture chemicals in conventional farming systems. There is also an issue with the amount of energy used in agriculture, since many farm chemicals require energy intensive manufacturing processes that rely heavily on fossil fuels. Organic farmers find their method of farming to be profitable and personally rewarding.
Consumers purchase organic foods for many different reasons. Many want to buy food products that are free from chemical pesticides or grown without conventional fertilizers. Some simply like to try new and different products. Product taste, concerns for the environment and the desire to avoid foods from genetically engineered organisms are among the many other reasons some consumers prefer to buy organic food products.
"Certified Organic"
is a term given to products produced according to organic standards as certified by one of the certifying bodies. A grower wishing to be certified organic must apply to a certification body requesting an independent inspection of their farm to verify that the farm meets the organic standards.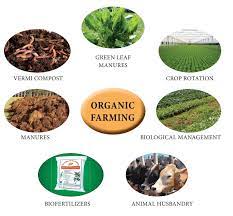 INTERESTED IN KNOWING MORE OR NEED HELP WITH A PROFESSIONAL FARMING BUSINESS PLAN? – CONTACT US NOW – (27) 84 583 3143 OR Email: money@global.co.za