Figs are an ancient food source and were one of the first fruit trees cultivated along with the olive and grapevine. It is known for its adaptability and high productivity whilst being easy to prune and maintain. This make the fig tree a valuable addition to farming and a rewarding long-term investment. There is almost no limit to the use of figs; figs can be eaten fresh, canned, dried, and made into an assortment of preserves. Foodies find them lovely with cheese and figs could also be roasted and added to coffee for an interesting twist.
CULTIVARS
Black Mission
This is a classic pear – shaped fruit with a purple to black skin and red flesh.
Adams
One of the oldest fig cultivars in South Africa. Large fruits, with purple skin and dark red flesh when ripe, ripen late in the season.
Cape White or Kaapse Wit
Very sweet french fig. The small flat fruits with green-yellow skin and straw – colored flesh ripen early.
Kaapse Bruin
One of South Africa's oldest figs. It ripens early to mid-season with a uniformly brown skin and pink flesh. Resists the attentions of flies well.
 Eva
A unique South African cultivar with small, egg-shaped fruits, greenish purple skin color and straw-colored flesh.
Cape Black or Koffievry
Another unique South African cultivar and popular in domestic gardens. It is a small, black early fig with straw- colored flesh. Can be eaten with the peel.
Tiger or Tiervry
Striking yellow and green stripy fig, fun to grow in the garden. The flesh is reddish pink.
Kadota
An old Italian cultivar with a prominent, fleshy stalk and typical drop of sugar in the "ostiole" or bottom opening when ripe. The skin is greenish yellow with white flecks and the flesh yellow-pink.
White Genoa
This is an early fig that ripens end of January to early February, with an abundance of large, sweet fruits. Skin is yellow-green and the flesh pink.
Brown Turkey
These figs ripen late in the season with light brown to red skin and dark red flesh.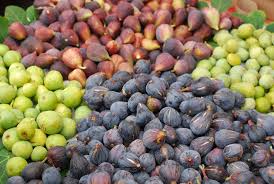 HEALTH BENEFITS
Figs are nutritious, calorie- dense fruit and contain high levels of potassium, calcium, vitamins B & E, as well as dietary fiber. Eaten fresh or dried, figs are an ideal food source for increasing energy, strengthening immunity and aiding the digestive system. 
SOIL
The fig can be grown on a wide range of soils; light sand, rich loan, heavy clay or limestone, providing that there is sufficient depth and food drainage. Sandy soil that is medium- dry and contains a good deal of lime is preferred when the crop is intended for drying. Highly acid soils are unsuitable.
HARVESTING
The fruits may be picked from the tree or gathered normally or by mechanical sweepers after they fall on the ground. Harvested fruits are spread out in the shade for a day or two so that the latex will dry a little. Then they are transported to processing plants in boxes.
WANT TO START OR KNOW MORE – YOU WILL NEED PROFESSIONAL ASSISTANCE AND A WELL STRUCTURED BUSINESS PLAN – CONTACT US NOW – (27)84 583 3143 or money@global.co.za