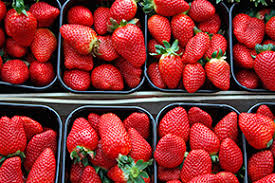 Starting a strawberry farming business, is good news because you can't get it wrong due to various species of strawberries that are consumed fresh by almost everybody and all over the globe.
Strawberries and strawberry flavorings are a popular addition to dairy products such as strawberry milk, strawberry ice cream, strawberry milkshakes, and yogurts to mention a few. Although farmers have been quite reluctant in participating in strawberry farming stating that the industry is not very developed, those looking into venturing into the practice are highly encouraged because of the huge income potential.
Planting
Strawberries can be grown from seeds, or using transplants (runners) from already existing strawberry plants. It is however more difficult to start with seeds and therefore runners are mostly used.
Cultural Practices
Mulching –
after planting the strawberry plants, mulching the beds with pine needles, shredded leaves or straw helps to keep the soil temperature down, mitigate the weed problem, and also keeps the fruit cleaner by keeping the strawberries off of the dirt.
Irrigation – water is critically and essential when growing strawberries. The plants need a lot of water especially when the runners and flowers are developing. Drip irrigation is highly recommended as it waters at the root.
Pruning – this is majorly aimed at increasing fruit production. Flowers should be pruned off immediately they appear.
Fertilization – application fertilizers an manure boost production. However, if too much fertilizer is applied, this promotes excessive leaf growth and poor production of flower stalks. Too much nitrogen results in soft and easily – damaged strawberries.
It is important to state that strawberry farming comes its own fair share of challenges, but that does not rule out the fact that it is indeed a profitable business venture. An aspiring entrepreneur can either choose to start on a small or on a large scale depending on their financial status.
NEED TO KNOW MORE OR HELP WITH A PROFESSIONAL AND WELL – STRUCTURED FARMING BUSINESS PLAN CONTACT US NOW AT:  (27) 84 583 3143 or email: money@global.co.za