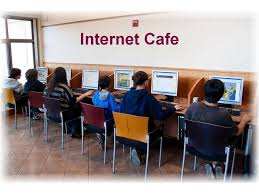 Since the invent of the Internet, a lot of other big things have happened to the information technology (IT). More and more people have taken to trades that revolve around this industry. You too can begin to look at ways to tap into vast opportunities that exists in the information technology (IT) industry.
The "internet cafe" line of business is one business that irrespective of the change in trends, is still managing to survive especially when the business is well positioned in a location like airports, campus, public facilities, hotels etc. Simply put, an internet cafe, which is also known as a "cyber cafe", is a place which provides internet access to the public, usually for a fee. Most internet cafes usually provide snacks and drinks, ence the cafe in the name. In an internet cafe, the fee for using a computer that is connected to an internet facility is usually charged as a time-based rate.
An internet cafe may be a great opportunity for you to combine your passions and turn your skills into earning money in an enjoyable and profitable way by following and implementing the following ideas/tips:
1. Planning your Internet Cafe
Write down the different amenities and services you want to offer and the audience you wish to cater to. Visit other internet cafe's in your area and in other cities to help form your ideas.
2. Feasibility
Investigate the area in which you hope to open your internet cafe business. Look specifically at the demand for an internet cafe and competitors in the area.Make a rough estimate of how much money you will require as an initial investment for computer equipment, furniture, software and amenities.
3. Create a Comprehensive Business Plan
Enumerate every detail for your internet cafe from the computers that you will need to purchase to long-term operational costs. Incorporate the results from your previous market research and explain in your business plan how your internet cafe will stay profitable over time. If you struggle in this area you should rather use the services of a "professional business plan consultant".
4. Start Up Capital
Using your financial plan, determine your projected annual expenses and gross income. You'll need to have enough capital to cover both your start-up and operating expenses. If you do not, you will need to take out a loan.
5. Find a suitable Location
You will want a place that is likely to attract stable as well as casual customers. Locating near a school or college may attract younger customers, or if you locate near other food cafes or small shops you might be able to catch pedestrians i the area.
6. Choose a name for your internet business
Establish a unique identifier that resonates with customers and sets you apart from other businesses. Do some research and find information about other business names so you don't choose one that is already taken.
7. Choose an Internet Service Provider (ISP)
Your cafe's internet connection will most likely need a higher grade, more robust connection than a normal household set up. Negotiate with your ISP as they may offer special deals for businesses, especially internet cafes.
IF YOU NEED MORE INFORMATION OR HELP IN THE SET UP OF YOUR PROFITABLE AND SUSTAINABLE INTERNET CAFE BUSINESS CONTACT US NOW AT: (27)84 583 3143 or money@global.co.za