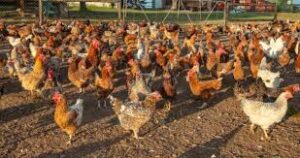 Free Range Chicken Farming is a method of chicken farming where the chickens are allowed to roam freely outdoors. This is done for a good part of the day rather than being confined in an enclosure for 24 hours.
In most free range chicken farms, the outdoor ranging area is fenced and therefore making the area an enclosure. Chicken meat is generally consumed in all parts of the world and is very healthy. There are many free range farms that raise chickens and making huge profits from their farming operation.
When you running your own free range chicken farming operation, it is better to produce your own chicken feed. One of the most economical  ways of feeding is to grow your own meal-worms as feeding for them. Meal – worms is the most ideal meal to feed free range chickens. It is also less stressful and inexpensive when you do it yourself.
Breed Selection
Free range chicken farmers work with various breeds like:
Meat Production – Cobb, Ross, Arbor Acres, Hubbard.
Egg Production – Lohmann, Browns, Lohman Silver, Hy-Line Silver, Hy-Line Brown, Amber – Link and Lohmann Hybrids.
Other poultry hybrids include the following chicken breeds:
Potch Koekoek.
Borschvelders.
Black Australorps.
With the market for "free range eggs" continuing to grow, more new players are getting into the sector.They raise chickens in a semi – intensive , free range or fully organic system. Many of the new entrants are tempted by the relatively low start up costs. Also, the potentially good margins as free range and organic products tend to fetch a higher price.
TO ENABLE YOU TO START YOUR OWN SUCCESSFUL FREE RANGE CHICKEN FARMING OPERATION YOU WILL NEED HELP WITH A WELL – STRUCTURED CHICKEN FARMING BUSINESS PLAN. CONTACT US NOW FOR PROFESSIONAL ASSISTANCE AT: (27) 84 583 3143 OR EMAIL: money@global.co.za