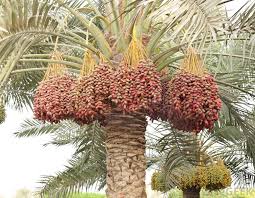 c
Commercial dates farming business is growing day by day. "Phoenix dactylifera" known as date or date palm, is actually a flowering plant species in the palm family, Arecaceae. It is cultivated for it's edible sweet fruit. Dates are the biggest oasis and desert cash crop. They are harvested from the palm trees and dried out in the sun and stored for the wintertime when they supply food for a family and assist herds of camels, goats and sheep.
Date palm is the oldest tree cultivated on earth. They are a excellent source of calcium, sugar, iron and potassium. They are also used in many social and religious festivals. They have many health benefits like relive constipation, reduce heart disease, control diarrhea and help in pregnancy. It is also used for making different products such as chutney, pickles, jam, juice, and other bakery items.
SOIL
It can be cultivated in any soil, don't have any specific

requirement.

But for good growth and yield, it required well drained, deep sandy loam soil with a pH in the range of 7-8. Avoid soils having a hard pan up to 2meter below soil layer. Saline and alkaline soils are also suitable for cultivation but yield obtained is low.
PROPAGATION
Propagation of the date palm is done with the help of suckers as propagation with seeds is impractical. Select suckers or offshoots from the mother plant. Suckers are obtained from 4 or 5th year after planting. Ideal weight of suckers should be 15 – 20kg.
DATE CULTIVARS
The most popular variety in South Africa is the "Medjool Date". Other popular varieties are Barhi, Deglet Noor, Sayer and Zahdi.
GROWTH
It normally take a date palm almost 2 years to be ready to plant out into the field. Another 4 years to produce a reasonable crop and up to 12 years to reach full production of 80kg and more per tree. Production can go on for 100 years but does decline around 50 years.
NEED TO KNOW MORE OR NEED HELP WITH A PROFESSIONAL FARMING BUSINESS PLAN CONTACT US NOW AT: (27) 84 583 3143 OR EMAIL US AT – money@global.co.za.