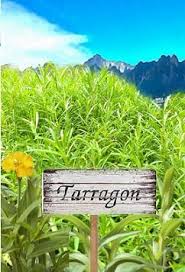 Tarragon belongs to the sunflower family and it is species of the perennial herb. Tarragon is a much – favored culinary herb plant, with leaves have a slight anise flavor. There are mainly two types of Tarragon. The French Tarragon one is more widely available and has a stronger flavor than the Russian variety. The French Tarragon is the more popular variety and should be planted in a place where you can easily manipulate the soil and control the temperature levels and amounts of water it receives.
Tarragon provides fragrant leaves that can be harvested and preserved for cooking year – round. Grow Tarragon in well – drained, sandy loam soil. It will tolerate poor and nearly dry soil. Tarragon does not grow well in cold, wet, or compacted soil. Tarragon plants prefers a soil pH level of 6.0 to 7.3 and it does not grow well in acidic soil.
PROPAGATION
For the French variety, propagation must come from the root division or stem cuttings, as the seeds are sterile which means they're not viable for planting. French Tarragon plants don't propagate by using Tarragon seeds, but rather through stem cuttings or root system division. Usually, the French Tarragon plant can only be grown by propagation or by buying an establish plant.
PLANTING
Remove the soil in an area slightly deeper than the root ball, and twice as wide. Amend the soil with plenty of organic material such as mature compost, worm castings, or well- rotted manure, some liquid – retaining material like perlite or peat moss, and a couple of tablespoons bone meal. Set the root ball in place, fill in the hole, and then cover the crown with the defamed soil, then firm in place. Water gently to settle.
WATERING
Water requirements for your Tarragon will mainly depend on the weather conditions and the maturity of the plant. These plants can cope in dry ground, and care must be taken not to over-water as this will diminish growth and flavor intensity.
It requires 5 to 6 weeks after transplant to harvesting.

NEED TO KNOW MORE OR HELP WITH A PROFESSIONAL AND BANKABLE BUSINESS PLAN – CONTACT US NOW AT 084 583 3143 OR SEND US A MAIL AT money@global.co.za