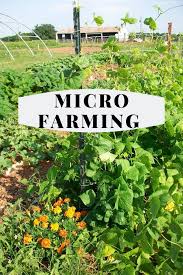 "Micro Farms" are small – scale agricultural operations that use far less land than the average commercial or family farm. Size limits and zoning restrictions force micro farmers to be creative about the crops they grow. They tend to focus on sustainability, seasonal crops and niche markets for their products.
A micro-farm refers to an agricultural infrastructure that typically works on five acres of land or less. They thrive in urban areas, and their focus is on sustainability and a commitment to being Eco-friendly. Common crops for micro farms include garlic, mushrooms, herbs and micro-greens. It is common for micro farms to connect with a small, specialized niche in which to market their goods.
Benefits of Micro Farming:
Interaction with nature – Managing a micro-farm gives you an opportunity to get outside daily, to spend some time with Mother Nature. There is nothing more natural than using the soil, sun, and a little water to grow food organically. 
Reduced Labor – Micro farms requires a smaller investment in labor. You don't need to invest in heavy machinery or workers to help maintain the crops.
High Quality Food – Another benefit of a micro farm is knowing that your food is free of toxins and pesticides. Growing your own food is one of the best ways to ensure that everything you eat is free of harmful chemicals.
Good for your Mind and Body – It is proved that getting out in nature and growing things or interacting with animals is beneficial for your mind and body. Managing a micro – farm has been proven to provide mental clarity and stress relief.
The smaller you go, the more profitable you are per square foot. This is because you can micro manage the farm and pay attention to the details. For example,m on a small farm, you can inter-plant short and long – term crops. It is also important on a small piece of land, you need to be highly selective about your crops.
NEED TO KNOW MORE OR NOT SURE ABOUT ANYTHING WHY NOT TRY OUR ONLINE CONSULTING ON ZOOM, SKYPE OR FACETIME?? OR CONTACT US AT: (27)84 583 3143 or email – money@global.co.za